My son is staying with his grandfather, working with him six days a week, crabbing. Another effort to keep him out of trouble. He is staying in an old hunting camp, certainly not luxury accommodations, but the scenery is beautiful.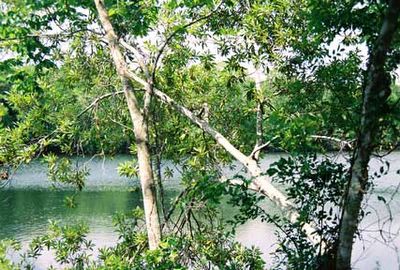 There is a pond with a dock where he goes in the evenings to throw out fish food. Most of the fish are still kind of tiny, although we saw an ugly old gar fish that was a good size. The water was too dark to get a good picture of him.
Tonight he called from the dock and said he was playing around with the alligators, said he was going to jump in the water and try to pull this four foot gator out of the water. I said "Oh my gosh, son, don't do that. That water is too dirty."
No, I told him he'd better stay on the dock, that little gator might have a mama underneath there, looking out for her baby.
This bird was wedged up in the tree. He is dead. I wonder what happened that he died like that.

I left my camera for my son and father-in-law to take pictures. My son told me he got a picture of the alligator and of a crab the size of a dinner plate, the largest one he has seen so far. When we get the pictures developed I will post them.
It's hard work, they get started around five in the morning. As my son says, with a trace of irony in his voice, when
it gets dark, that means it's time for bed. Not much time or energy left for getting into trouble.
My father-in-law is a retired school teacher/coach and a full-blooded Cajun. He and my son have never been really close in a traditional sense, but there has always been an odd bond between the two of them. Hopefully this

time spent together

will be good for my son.
Tomorrow they will probably cast for shrimp and fry some up for supper. What a life!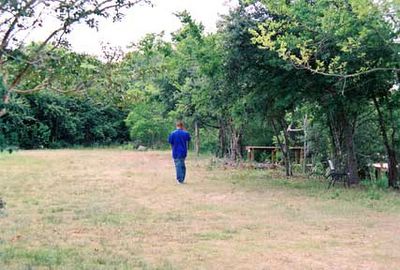 He's not out of the woods yet, (are any of us ever really out of the woods?) but he is in a clear spot and this mama is learning to live in the present, looking neither too far ahead nor too far back.