Or maybe, "I Think Spring is Here, Thank God"
When my grandfather died in December of 1985, something came over me, and the next spring, I felt compelled to plant a garden. It was a small space, based on the principles of square foot gardening. I planted cucumbers, tomatoes and bell peppers. If I had had a little more faith in the square foot gardening method, I probably would have planted pink-eyed purple hull peas. I don't understand why my grandfather's death drove me to dig in the dirt, nurturing vegetable plants that way, but doing so help me endure my loss, and I felt like I was honoring my grandfather's memory.

That's not me in the picture. I was probably the one who took the picture. That's my sister, standing there barefoot with her hand on her hip. That was back in the repressive days when respectable little girls wore dresses everywhere, even to the country, but that is a whole 'nother post! The peas are the bushy things to the left. The bare ground was probably where watermelons were going to be planted. The dog's name was Sport.




It seems my mother felt the same need when my brother died in December of 1994. Sometime in the spring of 1995, my mother planted a tree in his memory. Then she dug a small flower bed and filled it with flowers. Back then she had a lawn with a few trees and lush St. Augustine grass covering the ground. Today she has a garden filled with plants and "rooms", a veritable sanctuary in her back yard.

In my mother's garden, there are weird things. Bowling balls, squatty little frog statues and roosters made of beans. I think I remember my mother and a friend of hers gathering all these colored beans and corn and tediously gluing them to the burlap to form this lovely work of art. And it all comes down to this, the beloved work of art now residing in her garden, the beans slowly rotting off. (Is that a metaphor or what? How many things do we value and then cast off?)


In my mother's garden, there are little statues of children scattered about, most often depicting two girls and a boy, as we once were. My sister and I entertain ourselves by choosing which image best represents each of us. She is always the angelic-looking one. One of us seems to have lost her head, probably me.




In my mother's garden, there are flowers. Flowers like my brother that seem to smile and greet you with a friendly "Hi, there",




flowers like my sister, beautiful and deceptively delicate




flowers like me, decidedly sturdy-looking, that seem a bit confused, who are not sure what they are supposed to be (orange? pink? yellow?). Flowers with weird names too. This one is called chicken-bush. I have always had a fondness for its confused nature.




In my mother's garden, there are sentimental things too. This is the pulley that was in the water well at the house where she grew up.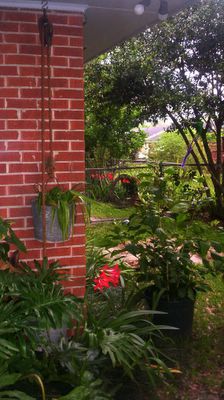 In my mother's garden, there are places of prayer. Places to wrestle with a mother's grief over the loss of a son. Places to intercede on behalf of a grandson. Places to thank God the blessings of a new season.